PinballBulbs Mini Virtual Pinball Combo
We are sorry but these are no longer available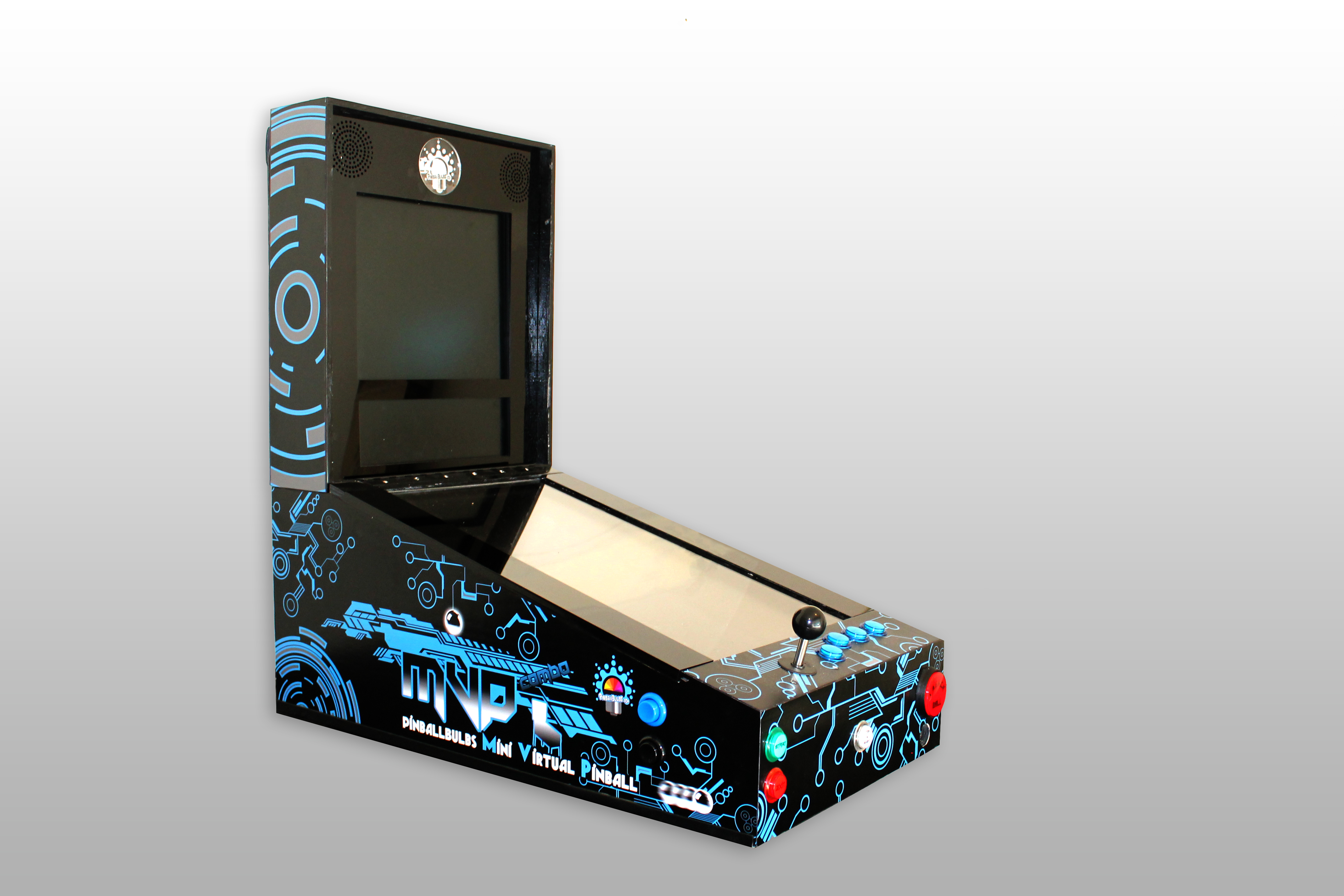 You can download the MiniVP most up-to-date manual here.
MVP matching stand can be found here.
This is our signature Mini Virtual Pinball combo (MVP for short). This is a powerful full featured pinball cabinet geared to the average user that is not an expert in building and configuring PC computers.  The cabinet weighs only 35 pounds so you can pull it out, play it on a coffee table or such, and put it away when you're done. The professionally printed artwork is custom made just for our cabinet by community artist Stezza. The control panel is specially laminated so that it will not wear. 
Our MVP comes complete with a custom front end written by us just for this cabinet so you are able to manage and navigate all games easily without a keyboard needed. This is a combo machine. It is a full table-top pinball cabinet with 2 flipper buttons per side, a start, exit, launch and coin button on front. It has high quality leaf switch flipper buttons for the two main flipper buttons to give a authentic pinball feel. As an arcade cabinet, this allows playback of all vertical arcade games via MAME or purchased from steam, etc. The joystick and 4 buttons on top allows for most games to be fully playable and configured. 
Your MVP Combo will come pre-loaded with Pinball FX2 and all tables available, the Pinball Arcade installed and configured with the preview tables and the ability to add MAME as well as Visual Pinball tables into the front end launcher. We will also purchase, install, and configure two incredible vertical arcade shooters for you: Ikaruga and Procyon. 
Hardware Features:
The game cabinet contains a very responsive extremely low lag 23" monitor for the playfield and a 17" monitor used for the box to display DMD and backglasses where possible. The combination of our PC set up plus the fast monitor will result in a very lag-free pinball experience. The PC can handle all virtual pinball platforms currently out with ease. PC Specs are Intel i3, properly licensed Windows 7 64bit, 4gb RAM, GTX750TI 2gb video card, and 120gb SSD for ultra fast boot up and reliability. We provide a built in wifi card. There is also an analog nudge sensor built in and pre-configured to work in Pinball FX2, Pinball Arcade, and Visual Pinball. Analog nudge is great - it enables you to move the game to nudge the pinball just like a real pinball machine. The sound system is fantastic for such a small cabinet. There are 3 speakers and a 100-watt 3 channel amp running 2 channel stereo and a subwoofer. You will be able to feel the ball hitting the posts, the flippers flip in your hands.
Our custom software provides some features unavailable anywhere else in the world.
We have written our own front end that lets you select the platform you wish to play from Pinball FX2 to Pinball Arcade to one of the arcade shooters preinstalled. 
Pinball FX2 real time backglasses - this means the backglass changes on the backglass monitor to match the game you are playing inside Pinball FX2.
Pinball Arcade real time backglasses - as with Pinball FX2, the backglasses change as you change games from within Pinball Arcade.
Pinball Arcade DMD display on 2nd monitor. This is currently integrated into our system and not available anywhere else. (Broken with recent pinball arcade updates)
You get real-time backglass switching and support for both Pinball Arcade and Pinball FX2. The means as you change games within the Pinball FX2 or Pinball Arcade, the backglass changes along with the game change.  Other platforms rely on pinballx or such to exit all the way out and select the game for you - reloading the software each time. Our platform works completely differently - as if the game supported backglasses natively. 
Easy to use for the novice.
For the person that just wants to play pinball, we have the only solution available anywhere. You will have Pinball FX2 and Pinball Arcade preinstalled and configured. You can add tables through a steam interface for usualy $3 to $5 a table through steam. The tables are downloaded by steam automatically and instantly ready to play. 
Other pinball cabinets require knowledge of how to install a front end such as hyperpin or pinballx. You then have to download media packs, install tables, configure each table, it can be quite a task especially for those that aren't that PC savvy. The community is friendly to help out, but it is still quite a daunting task to get visual pinball and pinmame set up and working correctly.  Then you have to find and download a ROM and a table for every game you want on your cabinet.
Our platform comes focused on Pinball FX2 and Pinball Arcade so you do not need to read forums and figure out where to find tables and ROMs. Simply buy the tables on steam and play the game. Also, because we think Pinball FX2 is so awesome and know you will, too, our MVP comes with all current Pinball FX2 tables already purchased.
Our cabinet is not just a pinball cabinet. It is also an arcade cabinet. To that end, we will have preinstalled and configured a fantastic 3d vertical shooter, Raiden IV. There are several veritcal shooters available in steam for purchase and our front end should recognize these as you install them from steam. 
Powerful for the advanced user
For the advanced tinkerer, our cabinet is a full featured pinball / MAME cabinet. Our front end provides the ability to add a launcher for hyperpin or pinballx. From there you can install the entire visual pinball platform or MAME platform. In addition, we will preconfigure MAME, Pinmame, and visual pinball for you. (Unfortunately, we cannot legally provide game ROMs so we do not. Also, we do not provide Visual Pinball table as it upsets the table authors in the community).



The MVP is currently out of stock. We are taking small deposits and creating a waiting list while we ramp up production for our next small batch. Contact us today to get on this list in the order we received your contact!