Our LED Lighting kits are not like other kits. PinballBulbs led kits are designed to fully illuminate your entire game, including the dark spots that prevent your game from being played in a dark room or bar.
Our kits do not simply replace every bulb with an LED. Our kits do not attempt to retain the original game look. Instead, our kits are intended to transform your machine from a dated and dull machine into a bright well-lit machine that will sit next to any new machine and look great. We use the highest quality pinball leds only in all our kits!
All of our ultimate style kits come with extras that include custom solder free light strips, spotlights, and are tested to fully illuminate your game in a darkly lit room. We do not accept user-generated kit suggestions (like many of our competitors). Each ultimate kit layout is carefully crafted and the game is play tested for a couple hours in a dark room to make sure the game is fully playable. All of our kits are non-ghosting as well since we personally make each led kit with the game in our shop using only top quality pinball leds.
Installation is handled with our bulb layout instructions that tell you where to place each bulb and our picture layout that uses bulb numbers and lets you place each bulb in a paint-by-numbers fashion. We even include a bulb puller tool to help you get bulbs out of their sockets.
Pictures cannot do the games justice. But as an example for what you can generally expect, here is a before and after picture of our Batman Dark Knight taken in a dark room with no ambient lighting: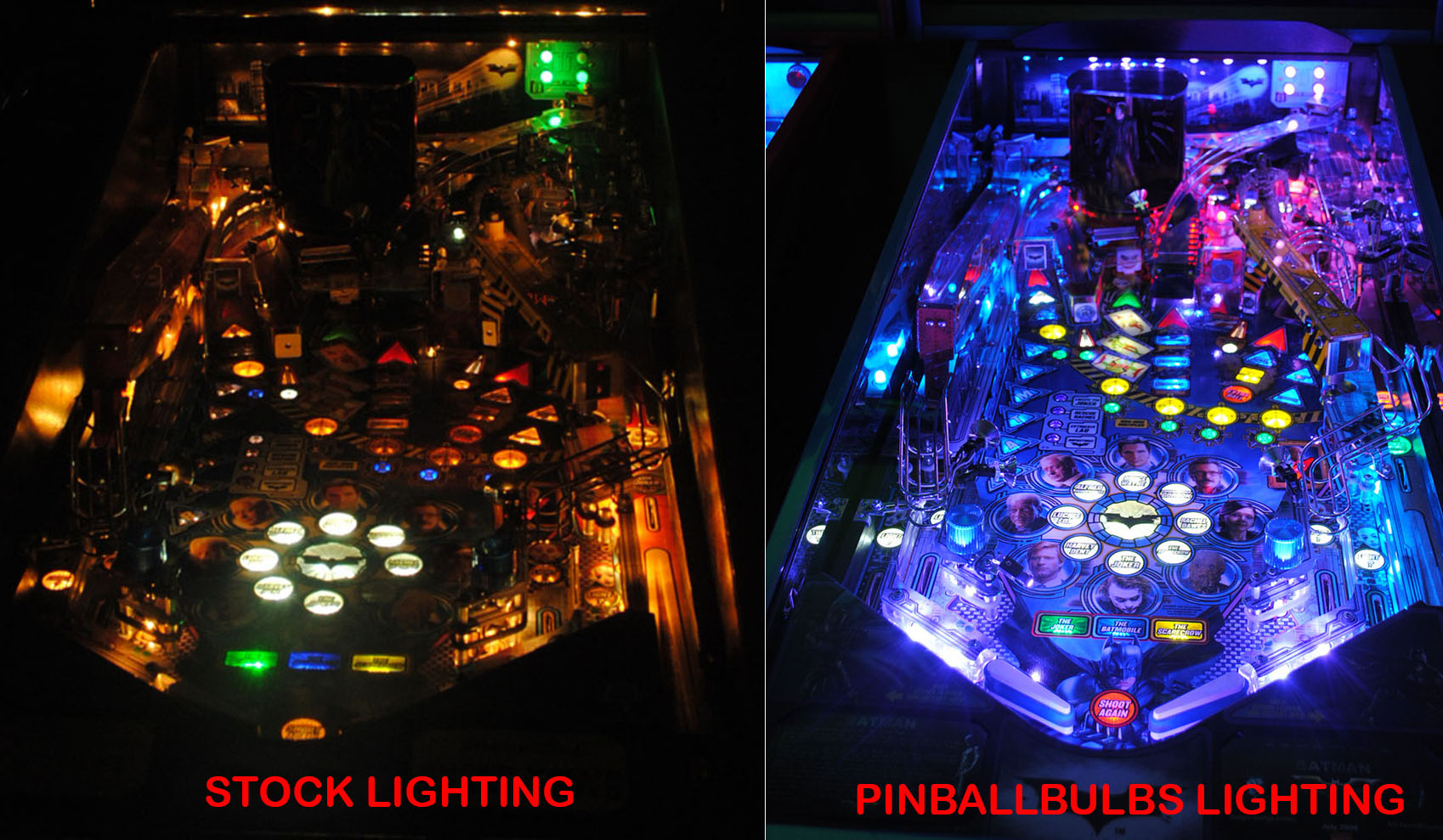 I am adding kits as I can get to them. If you are looking for something not yet listed, please contact us and if possible I will prioritize this.